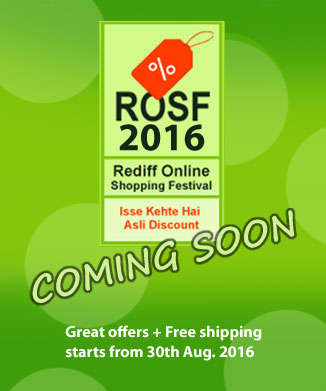 When is Raksha Bandhan (Rakhi) in 2016?
Raksha Bandhan (rakhi) 2016 falls on 18th August 2016. Raksha Bandhan (rakhi) is usually celebrated with a lot of zeal and fervour. Brothers and sisters from all over India unite or send Rakhis or gifts to each other on this day.
Send Rakhi Online with Rediff Shopping
Raksha Bandhan (rakhi) is a festival where siblings unite, complete the festive rituals, exchange rituals and have a great time together. As we know, Raksha Bandhan (rakhi) is just around the corner, the celebrations have already started. Sisters have already started shopping for Rakhis and exclusive Rakhi gifts for their lovely brothers. Whether you are the sister or the brother, you must be looking out for the right gift that will make your sibling happy.
What is Raksha Bandhan (Rakhi) and Why Do We Celebrate?
According to the tradition, a sister ties a holy thread on her brother's wrist and prays for his well being and prosperity. In exchange of this sacred thread, the brother showers her with gifts of her choice and promises to stand by her during the thick and thins of her life. Usually, the entire family unites, gifts are exchanged and some quality time is spent.
Find Gifts for Raksha Bandhan (Rakhi) with Free Shipping
There was a time when the brother or the sisters bought something random as a gift on Raksha Bandhan (rakhi). However, a lot of thought is being put into buying the right gift for the sibling on Raksha Bandhan (rakhi). Brothers and sisters are trying to go out of their way to find a great gift which makes the festive time memorable.
Rediff Shopping is a great and one of the oldest online stores to buy Rakhi gifts online. If you are looking for the best quality Rakhi gift at really affordable prices, don't look beyond and simply log on to the exclusive Rakhi gifts store on Rediff Shopping.
You can choose from a wide variety of Rakhi Thalis, Rakhi hampers, Puja Thalis, Mithais or any other product of your choice. No matter what you wish to buy, we have an exhaustive range of Rakhi gifts which could make your Raksha Bandhan(rakhi) really special and memorable. You can also send Archies rakhi gifts and Haldiram rakhi gifts to your brother anywhere in India and aboard.
Best Raksha Bandhan Gifts for Your Brother
Every year, we at Rediff Shopping proudly present the Rakhi store which showcases the latest and the most heart-warming Raksha Bandhan gifts for both brothers and sisters. Sisters can choose from a range of designer Rakhis, colourful Rakhis, rachis for kids, gold and silver rachis and so on. Sisters looking to buy a rakhi for their little brother can choose from a range of cartoon and superhero themed Rakhis like Superman Rakhi, Angry Birds Rakhi and so on. There is also a good range of pearl Rakhis, stone studded Rakhis etc.
Not just Rakhis, we at Rediff Shopping have collaborated with the top sweet brands and got you the choicest deals on dry-fruits and rich Indian sweets like kaju katli, badam katli, Rasgulla, Gulab Jamun, Soan Papdi, laddoos and more. If your sibling is health conscious, you can choose from the sugar free sweets available on our portal as well.
Exclusive Gifts for Sister on Rakhi
Choosing a perfect Rakhi gift for your sister can be quite difficult if she is too picky. Even if you don't know her likes, you can still buy a Rakhi gift for sister. You can give her a personalised Rakhi gift like a mug with a photo of you and your sister printed. If that looks difficult, you can also pick from a range of jewellery, chocolates, perfumes, watches, apparels or even gadgets based on your budget. With our latest collection of Rakhi gifts, the siblings are definitely going to surprise each other with some lovely gifts.
Amazing Collection Gifts for Brother on Raksha Bandhan
Men are usually fond of gadgets. You can buy the latest Smartphone or choose from a range of Smartphone accessories available on our portal. If you are not willing to buy a gadget for your brother, you can choose from a range of men's accessories, apparels and so on.
Send Rakhi and Rakhi Gifts Online to India and Worldwide - Distant Siblings Need Not Worry!
Even if you are away from your brother or sister, Rediff Shopping provides you with a chance to send Rakhi or Rakhi return gifts to your sibling's doorstep. We have partnered with efficient logistics partners for timely delivery of Rakhi gifts as we believe that distance should not ruin the fun. We can get your Rakhi or Rakhi gifts delivered anywhere in India to most cities and small towns. Even if your sibling stays abroad, we promise to deliver your gift at their doorstep just in time. You can send Rakhi gifts to USA, UK, Australia and the rest of the world.